Coronavirus Disease 2019 (COVID-19) is of great concern to all of us. This pandemic is hurting most businesses and causing many to shut down. If COVID-19 is hurting your Orlando area business, maybe we can help.
Centers for Disease Control warns that a person can get COVID-19 by touching a surface or object that has the virus on it and then touching their own mouth, nose, or eyes.
Our well trained Sanitation Team Members can clean and sanitize daily your countertops, workstations, tables, chairs, phones, desks, door handles, rest rooms, electrical switches, and all common areas that your employees and customers touch using the most effective anti-viral products recommended by the CDC. While we cannot guarantee that our service will totally eliminate any potential risk, it is an effective step to that end.
We are ready to help the following businesses and locations with COVID19 sanitizing in the Central Florida area:
manufacturing facilities
commercial buildings
warehouses
health clubs
gyms
business offices municipal offices
schools
playgrounds
school busses
community colleges
universities
rental vehicles
airports

hotels
motels
restaurants
malls
stadiums
locker rooms
hospitals
surgical centers
nursing homes
doctor's /Dentist's offices
senior living facilities
ambulances
municipal vehicles

police cars
public restrooms
day care centers
veterinary offices
sports arenas
churches
theme parks
movie theaters
gas stations
convenience stores
courtrooms
government buildings
offices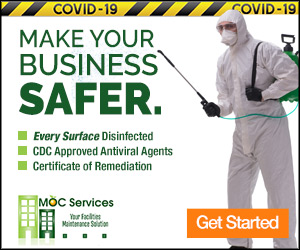 Please contact us if you would like to discuss your situation and what we can do to help you keep your doors open.
For COVID19 Cleaning Inquiries Please Call:
Andrew Wentz of MOC Services at 908-246-9241