Coronavirus Disease 2019 (COVID-19) is of great concern to all of us. This pandemic is hurting most businesses and causing many to shut down. If COVID-19 is hurting your Orlando area business, maybe we can help. MOC Services Clean offers COVID-19 sanitizing and cleaning services to the Orlando and Central Florida area.
Centers for Disease Control warns that a person can get COVID-19 by touching a surface or object that has the virus on it and then touching their own mouth, nose, or eyes.
Our well trained Sanitation Team Members can clean and sanitize daily your countertops, workstations, tables, chairs, phones, desks, door handles, rest rooms, electrical switches, and all common areas that your employees and customers touch using the most effective anti-viral products recommended by the CDC. While we cannot guarantee that our service will totally eliminate any potential risk, it is an effective step to that end.
We are ready to help the following businesses and locations with COVID19 sanitizing in the Central Florida area:
manufacturing facilities
commercial buildings
warehouses
health clubs
gyms
business offices municipal offices
schools
playgrounds
school busses
community colleges
universities
rental vehicles
airports

hotels
motels
restaurants
malls
stadiums
locker rooms
hospitals
surgical centers
nursing homes
doctor's /Dentist's offices
senior living facilities
ambulances
municipal vehicles

police cars
public restrooms
day care centers
veterinary offices
sports arenas
churches
theme parks
movie theaters
gas stations
convenience stores
courtrooms
government buildings
offices
COVID-19 Sanitizing and Cleaning Services in the Orlando Area
Since the outbreak of the COVID-19, most everyone is becoming more concerned about what businesses are doing to protect their customers and employees. Are they disinfecting and maintaining good cleaning and hygiene practices?  Electrostatic Spraying/Misting is the cutting edge of modern cleaning technology.
What is the best way to disinfect COVID-19?
Electrostatic Spray Coating is recognized as the best way to apply an even coat of anti-viral agent to almost any surface. It is the technology used now by the more advanced sanitizing companies to disinfect for Coronavirus.
How does Electrostatic Spraying work when removing COVID-19?
Most surfaces in any area typically are negatively charged since they are naturally grounded. When an electrostatic sprayer is used, it presents a positive charge to the anti-viral particles as they are disbursed. These particles repel each other so it remains as a mist. These positively charged particles are attracted to the negatively charged surfaces and causes the antiviral to cling to the surfaces evenly and around and underside and the back side of the object. Electrostatic spraying/misting has been proven to be more that 10 times as effective as conventional methods of spraying since the electrostatic mist is attracted into cracks and crevices that would not attract a simple spray. Since the antiviral particles are so minute, the small droplets that are formed, dry in an hour or less depending on the environmental humidity and typically do not need to be wiped down.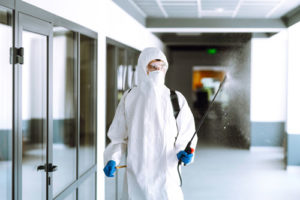 What Antiviral is used during COVID-19 Sanitizing and Cleaning?
The CDC approved antiviral that we use will kill 99.9% of viruses or bacteria in less than 10 minutes. It is strong but environmentally friendly with little or no run-off. It is safe once the product has dried.
What is the duration of an electrostatic sanitizing for COVID-19 Cleaning?
Electrostatic disinfecting will effectively kill any microbes, bacteria, and viruses at the time of application, which is the intent of cleaning and disinfecting treatments. Antiviral disinfecting solutions typically don't provide a protective barrier to leave an ongoing antimicrobial or anti viral benefit. This process cannot prevent reinfection. Understanding that, you should determine how often you will need to disinfect your home or business. Many workplaces such as medical offices, restaurants, gyms. And schools are exposed to many potential pathogens on a daily basis. Places such as these benefit from electrostatic disinfecting on a daily basis while other workplaces such as offices may need to be disinfected only once a week.
We Use a Hospital Grade Disinfectant for our COVID-19 Sanitation Work
For a disinfectant to be labeled as hospital-grade, the highest level of disinfection, it must pass EPA accredited laboratory tests to effectively kill Staphylococcus aureus, Salmonella choleraesuis and Pseudomonas aeruginosa. The Pseudomonas aeruginosa bacteria hides under biofilms and is difficult to eliminate. Using our electrostatic fogging equipment, our disinfectant kills these and nearly 30 other infectious pathogens.
MOC Services Certificate of Remediation and CDC Compliance for COVID-19 Sanitation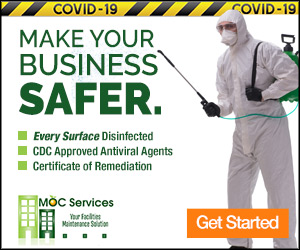 MOC SERVICES disinfects under the auspices of the CENTER FOR DISEASE CONTROL . We follow their "GUIDANCE FOR CLEANING AND DISINFECTING PUBLIC SPACES, WORKPLACES, BUSINESSES, SCHOOLS, and HOMES". This gives us the authority to provide you with a certificate of remediation once we have disinfected your workplace, business, or home.
Please contact us if you would like to discuss your situation and what we can do to help you keep your doors open. We are here to support the Orlando and Central Florida community, and that includes keeping your business open and COVID-19 free.
For COVID-19 Sanitizing and Cleaning Inquiries Please Call:
Andrew Wentz of MOC Services at 908-246-9241